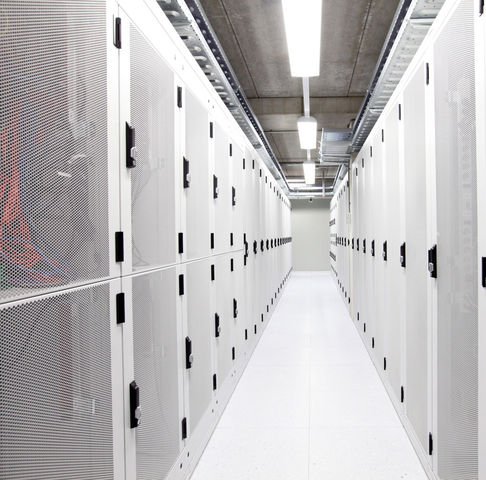 9 things to consider when choosing a data center
Housing your IT infrastructure in a data center has several advantages. Read here what to look for when choosing the right datacenter.
let's meet
Would you like to know more about the Eurofiber Cloud Infra datacenters? And are you looking for expert advice? Then feel free to contact us without obligation for a (virtual) introduction.
Using a data center has many advantages instead of housing it indoors. An office building often lacks a proper emergency power supply, fire prevention, optimal cooling, the right security and redundant Internet connections. In addition, space often becomes an issue as the arsenal of IT equipment expands.
A data center is therefore an excellent solution for any organization which is heavily dependent on IT equipment and applications and which has a need for high availability of IT services. A data center is a high-security industrial building designed and built for one purpose: to ensure that computer servers running digital applications are always running, 365 days a year, 7 days a week, 24 hours a day. Data centers can be single- or multi-tenant. In the former case, the data center facilitates the needs of a single company. A multi-tenant data center leases space to multiple organizations. Essential facilities such as connections, cooling and power supplies are usually redundant (duplicated) in data centers.
Have you decided to house your server(s) and IT infrastructure in a data center? Then it is important to choose the right data center. But what do you need to consider when making this choice? We have listed a number of important issues for choosing a data center.
1. The location of the datacenter
Taking the location of the data center into consideration is key when selecting a datacenter. This is because of several reasons: Firstly, the accesability of the datacenter. How easily can you or your co-worker get to the physical data center? `Well important if you ever need to upgrade or maintain your equipment housed in the building.
Also consider how susceptible an area is to natural disasters such as hurricanes, floods, earthquakes, severe storms and tornadoes. A good data center already takes this into account in the construction phase, however, it never hurts to check.
The location of a data center can also be an important consideration from the point of view of data protection and privacy legislation. There are laws that require you to store certain data only in a data center located in the Netherlands or on EU territory. Housing that data in an American, Asian or European country that is not a member of the EU means that you are no longer compliant with the regulations. In addition, a short distance between the data center and your office often results in faster loading times. Essential at a time when the average internet user leaves a site if it takes more than 3 seconds to load.
2. Cooling and power supply in a datacenter
Intensively used servers heat up quickly. This is certainly true for the mountain of equipment located in data centers. Therefore, pay attention to the presence of sufficient cooling in the data center of your choice. Ideally, the data center will provide redundant cooling systems through configuration with multiple paths. Does a cooling system fail? Then with this construction, there is always a backup system present to take over the cooling duties.
Power supply is also an important consideration. Is there sufficient power available? Are the power supplies redundant? And is there enough high-quality fiber optic paths running to and from the building?
3. Network neutral or not?
Is a data center network neutral or not? This is another question that must be asked when selecting a data center. A network-neutral (carrier-neutral) data center is completely independent of network providers. The data center therefore hosts connections from multiple colocation and service providers. 
This has a number of important advantages. You can decide which carrier you use. You also have the freedom to choose two or more carriers, so you are not dependent on one party. This also ensures that you can switch carriers more easily, because in such a case there is no need to move to another data center. Finally, choosing a network-neutral data center also brings cost advantages. Because carriers compete with each other, rates in network-neutral data centers are often lower than in data centers used only by a specific provider.
4. The Tier classification of te data center
Het Uptime Institute deelt datacenters op in een viertal categorieën, de zogenoemde Tiers. Die classificatie is gebaseerd op de verwachte beschikbaarheid. Hoe hoger het Tier-niveau, hoe groter de verwachte beschikbaarheid is. We onderscheiden de volgende niveaus:
Tier 1 (99,671% beschikbaarheid): de geschatte uitvaltijd van een datacenter uit deze categorie is 1729 minuten of 29 uur.
Tier II (99,741% beschikbaarheid): dit komt neer op een geschatte uitvaltijd van 1361 of 23 uur.
Tier III (99,982% beschikbaarheid): de geschatte uitvaltijd van dit type is slechts 95 minuten.
Tier IV (99,995% beschikbaarheid): dit is het hoogste niveau en komt neer op een geschatte uitvaltijd van 26 minuten.
Zoals u ziet, is er een behoorlijk verschil tussen Tier I-II-datacenters en datacenters die onder de categorie Tier III of IV vallen. Datacenters met een Tier III & IV- classificatie communiceren richting investeerders, klanten en de markt dat de IT-infrastructuur 24 uur per dag en 7 dagen in de week beschikbaar is. 
5. Veiligheid
The level of security that a data center can guarantee is also important. The IT infrastructure is the backbone of your organization. So take a critical look at how a data center is secured. Are there layered security zones? Is there continuous camera surveillance? How are access logs maintained? And how is access controlled? For example, many data centers use biometric solutions for access control and are usually only accessible to a very select number of authorized individuals.
6. Support
Migrating to and installing all your equipment in a data center is quite a major undertaking. The same applies to monitoring and maintaining the hardware once it is in the data center. Many data centers offer support during the migration or on-site monitoring of your IT infrastructure. It often pays to look at the support services offered by a data center and include them in your choice.
7. Energyconsumption and environmental friendly
With an eye on the environment and rising energy costs, the energy consumption of data centers is also a hot topic. What does a data center do to organize its energy consumption as efficiently as possible and to keep it within limits? To what extent does the data center make use of green energy and what measures can be taken to save energy are, for example, energy efficient cooling systems, reuse of residual heat, cold corridors and the use of smart lighting.
8. Flexibility and sustainability 
Flexibility and future-proofing are also important considerations when choosing a data center. Does a data center only offer out-of-the-box solutions or is there also room for more customization? And what about capacity? Can the data center quickly and easily scale up when needed? From the perspective of future-proofing, also try to get a picture of the financial stability of a data center.
9. Extra services
When choosing a Datacenter, look carefully at the additional added value that a Datacenter itself can offer. To what extent can they provide additional services that are needed for now or in the future to flexibly grow your IT infrastructure. Think for example of providing an IAAS platform for your backups or innovations, migrating to or setting up a Public Cloud platform or setting up your cloud infrastructure. Outsourcing your entire IT infrastructure to a single provider offers many advantages, such as a single point of contact in the event of disruptions, lower monthly costs and flexibility in contract periods.
Let's meet
About Eurofiber Cloud Infra
By including the above points of interest in your choice, selecting the right datacenter becomes a lot easier. The Eurofiber Cloud Infra datacenters score highly on all aspects. We have six Tier III data centres in the regions of Amsterdam, Utrecht, Rotterdam, Brabant and Arnhem. From these locations we serve both large and small IT environments for a diverse spectrum of clients. Reliability, efficiency, sustainability and continuity are the pillars of our services.  We also offer many additional services in the areas of Consultancy, Colocation, Connectivity and Cloud.
Want to know more? Feel free to contact us by calling +31 (0)88 32 827 52 or fill in the contact form using the button below.