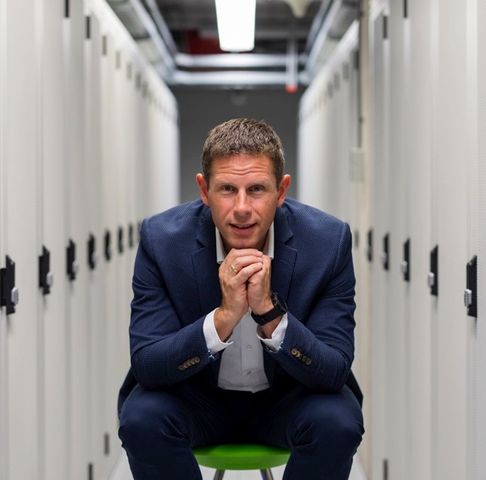 18 Oct 2021
Dataplace & Vionq: a long-term collaboration
In 2009 was het idee om een beter datacenter te bouwen dan Gerben van der Veen zelf als gebruiker kon vinden. Bij de implementatie van AFAS sloten Gerben en Vionq oprichter Rutger Schimmel zich drie dagen op om de automatische betalingen en facturatie te organiseren. En met succes! Lees hieronder hoe deze samenwerking is gegaan. 
Newsletter
Stay informed about all developments
9 October 2021 - In 2009, the idea was to build a better data centre than Gerben van der Veen himself could find as a user. During the implementation of AFAS, Gerben and Rutger Schimmel, founder of Vionq, locked themselves up for three days to organise the automatic payments and invoicing. With success. Today, with six data centres spread across the Netherlands, Dataplace is a major player in the Dutch market and has automated many of its processes via AFAS.
Your electronic patient file with the right doctor and the many PIN transactions you make every day; for both, it is essential to house the data in a secure and reliable location. Dataplace provides this. They build and operate safe places for the data, which must always be available. Guaranteed power, cooling, connectivity and security.
Data centers of a better quality.
Because downtime has an enormous impact on their customers, Dataplace does everything possible to provide the best quality of service. Gerben van der Veen, founder and director explains.
"The idea arose in 2009: we wanted to build the ideal data centre. We ourselves were never satisfied with the quality of data centres, and as a provider with major brands as customers, we were looking for a solution. Thus, we wrote down on paper what the ideal and perfect data centre would looked like and actually took on that capital-intensive challenge."
foundation of the digital economy
"First of all, we were looking for a location that was easily accessible digitally and had sufficient power. We found the suitable location in Alblasserdam, where our first data centre has been located since 2011. A lot happened in the phase that followed. We were taken over and we bought and built more data centres. This gave us a broad reach in the Netherlands. Today, we are a major player and I am enormously proud of that. Companies do bring their coronary artery to us and that requires trust."
The basis was laid in three days 
When Gerben van der Veen sold the company he owned before he started Datapace, the financial organisation still belonged to the part that was already sold. "The new owner thought it was time for me to organise my own finance. I was looking for a quick solution, talked to all the ERP system providers and chose AFAS.

I met Rutger during the implementation. He had started Vionq to help entrepreneurs who work with AFAS to get the most out of the system. In three days time - we locked ourselves up with a clear assignment - we set up a financial process for Dataplace. After those three days, we were able to make and receive automatic payments, book purchase invoices and create sales invoices based on recurring subscriptions. Exactly what we needed at that stage. The implementation was also easier because we knew in advance what we wanted to get out of it. It really started to pay off when we reached the tipping point. Because when we started to invoice our subscriptions automatically, it immediately saved an enormous amount of time."
Collaboration partners 
"When you work together for a long time, things might not always run very smoothly. A good example of a pitfall we fell into is putting people to work without any review moments inbetween. These people then developed something that was not in line with what we had in mind. That is something you learn when you are partners.Besides, I was also positively surprised! At one point, we were given a variaty  of dashboards and the declaration process was automated via an online portal. The app makes it super easy for our employees to claim. Yes, that is when I thought, this is cool!

"Vionq was also very helpful in creating a framework that we could roll out uniformly at each new data centre. It turns out that the choices and implementations we made together at the beginning have been crucial for Dataplace's growth.  Vionq thinks along and delivers. At Dataplace, the finance department still runs on 2.5 FTEs. We are extremely efficient. We get time back and this time and budget for department such as marketing or commerce. That is value creation.
The future
"I believe that Dataplace will ultimately automate the ordering and delivery of standard services even more. Ordering space in our data centre should be as easy as ordering from Bol.com: order, pay by telephone and you receive your order the next day, without human interaction. Then the people of Dataplace can focus on thinking along with you and innovating the services and products.
Source: Vionq
News & Press
Would you like to know more about Dataplace?