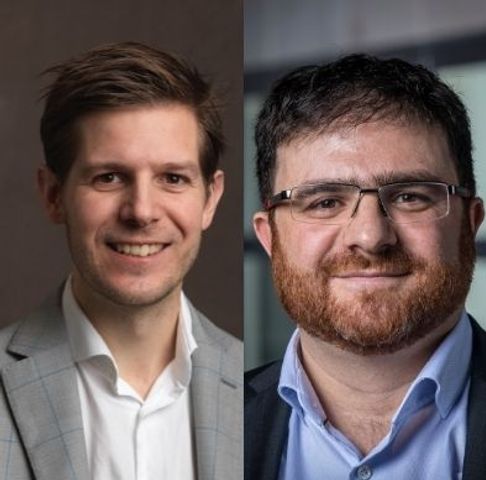 20 Sep 2021
Eurofiber forms business unit Cloud Infrastructure
Eurofiber has formed a new business unit Cloud Infrastructure, bringing its subsidiaries Dataplace and DCspine under one umbrella.
Newsletter
Stay informed about all developments
Maarssen, 20 September 2021 – Eurofiber has formed a new business unit Cloud Infrastructure, bringing its subsidiaries Dataplace and DCspine under one umbrella. With this, Eurofiber meets market needs for open cloud infrastructures. Daniel Danon leads the new business unit as Managing Director Eurofiber Cloud Infra. Jan Michiel Berkel has been appointed as Commercial Director.
'As a leading provider of digital infrastructure, Eurofiber's strategy is built upon two pillars: fiberoptic connectivity and cloud infrastructure', says Daniel Danon. 'Especially for the latter, market dynamics are very exciting. Market needs are rapidly transforming from classic colocation and connectivity to hybrid cloud solutions, adding virtual platforms for optimal flexibility and scalability. At Eurofiber we are ideally equipped to meet these market needs, as we continue to expand our service portfolio and our reach across Netherlands, Belgium, France and Germany. To serve our extending customer base in the best way possible, we bring our subsidiaries Dataplace and DCspine under one Cloud Infrastructure umbrella. With this, we are able to bring our customers and partners a complete set of cloud infra components to enable their digital enterprise. This includes DCspine's automated network across its extensive DC to DC presence (78 datacenters across the Netherlands, Belgium and Germany) and Dataplace's six state of the art Tier III datacenters covering the full co-location and digital infrastructure portfolio. The cloud infra division opens to partners the entire cloud connectivity and infrastructure portfolio of the Eurofiber Group.'
Jan Michiel Berkel adds: 'Recently, both DCspine and Dataplace already integrated Eurofiber subsidiary MatrixMind's CloubHub platform into their solutions. This enables customers to manage their (hybrid) cloud environment quickly, simply and securely from a large number of locations in the Netherlands and Belgium. Now that we have formed a cloud infra business unit, we further extend our capacity to provide our customers with open infrastructure services that allow them to support securely and reliably their own digital strategy.'
Whilst integrated as an organization, Eurofiber, Dataplace and DCspine will maintain the ability to operate independently in the market. Daniel Danon: 'With the Cloud Infra division, we are ready to offer integrated services when needed. Needless to say, the business units will also continue to provide their customers with colocation, interconnectivity or cloud connectivity services only if preferred. The independent position of both Dataplace and DCspine also means that, as before, no distinction will be made for internal or external customers in terms of pricing or other conditions. We remain a truly open digital infrastructure partner.'
Management Cloud Infrastructure business unit Eurofiber:
Daniel Danon, Managing Director. Danon (43) joined Eurofiber in March 2020 as Group Director Products & Solutions. Earlier, Daniel held various senior management roles in both Liberty Global and Vodafone Hungary.
Jan Michiel Berkel (37) was an M&A advisor at Deloitte, after which he joined Eurofiber as a senior manager in 2014. In 2018, Berkel founded datacenter interconnectivity provider DCspine, which he led ever since.
For more information, please contact: Paul Faas, Tel. +31 (0)6 82 89 95 08, e-mail marketing@dataplace.com
News & Press
Would you like to know more about Dataplace?